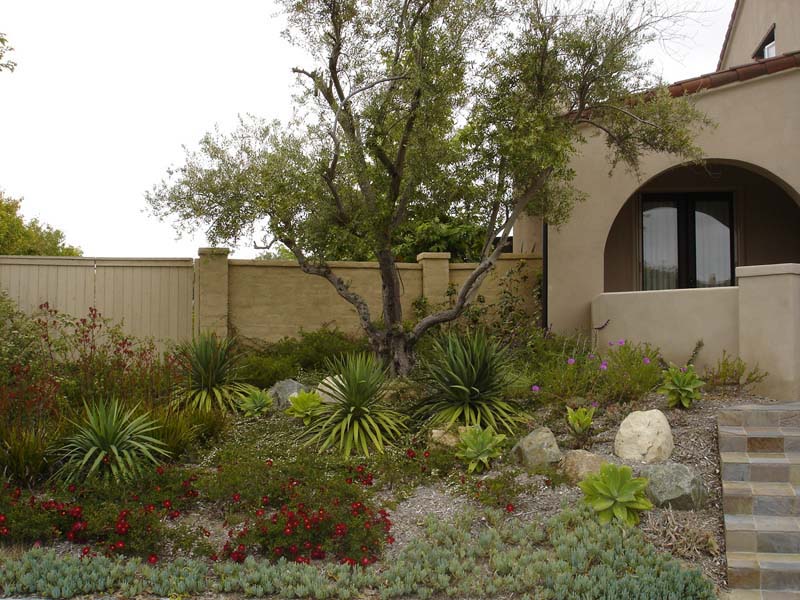 San Diego Landscape Design Ideas
How to reduce water use or create a water-wise garden?
San Diego's dry climate continues to call for water conservation and especially in our own backyard. Creating a water-wise garden is important to many because most of our water use comes from outside the home. You don't have to compromise in having a beautiful garden, in fact we can help you develop a luscious garden with drought tolerant plants such as lavender, juniper, agave, cactus, sedum and thyme as just a few examples of plants suitable for our environment.
Another way to reduce water use is to consider a synthetic lawn. Synthetic lawns not only conserve water and in the long run will save you money and will stay green 365 days of the year. If you have dogs, this may be a good option to consider because of the wear and tear associated with dogs and lawns.
If you want have a natural lawn, we recommend having the proper irrigation system installed that will help your lawn grow healthy and save you time and money.
If you need help determining which plants would best fit your garden, give us a call and we will help plan out your water-wise garden.
How to create a native landscape?
California has the richest group of plants of any state in the nation, and one of the most interesting and diverse in the world. Of the 6300 plants that are native to California, over one-third are endemic — they grow naturally nowhere else. Growing California natives is one way to develop an appreciation of its beauty and diversity. Here is a list of California natives that can be inspiring for your garden:
Sea-dahlia
Western Redbud
Matilija Poppy
Fern-leaved Catalina Ironwood
Monkey Flower
California Buckweat
Fremontia Flannebush
Douglas Iris
California Coffeeberry
Lemonadeberry/Laurel Sumac/ Shugarbush
Showy Island Snapdragon
Toyon (California Holly, Christmas Berry)
Torrey Pine
Holly-leafed Cherry
Nutall's Scrub Oak
Coast Live Oak