Modern Image will work with you to blend Softscape and Hardscape components to capture your idea of your dream backyard escape.

There are two main components in landscape design. These two parts are Softscape and Hardscape. Hardscape consists of adding on to the exterior parts of your home by constructing hard surfaces such as retaining walls, walkways, and other various block or wooden structures. Softscape includes the soft materials that are used to add color to your yard. These elements include but are not limited to sod, plants, and trees. Modern Image Landscape Construction will work with you to blend these two components to capture your idea of your dream backyard escape.
Please click on the pictures to view samples of our work.
Pavers
With pavers you have over 100 patterns, colors, and styles to choose from. This option is a beautiful and elegant way to enhance your home. They can be installed in your driveway, patio, or pool deck areas.

Concrete and Stone Work
Modern Image Landscape can install multiple surfaces in a variety of colors and patterns. For your concrete needs Modern Image Landscape can install stamped, colored, exposed aggregate, acid-etched, broom-finished, or salt finish concrete for your patios, driveways, or pathways. Because of concrete's porous qualities and neutral tone, it is the perfect blank canvas for integral or topically applied color. Using acid-based chemical stains, Modern Image Landscape has been able to achieve rich, earth-toned color schemes resembling natural stone, marble, or wood, giving a completely custom look to your cement floors.

Fire Pits / Fire Bowls
Fire pits / Fire Bowls in San Diego are becoming ever so popular these days. With a custom fire pit, your nights outdoor can be more enjoyable. We can create a beautiful fire pit design that meets your space. Please contact us to talk about your new fire pit design.

Barbecues
Barbecues do come in all shapes and sizes. Before we design your custom barbecue, we will ask you a series of questions: Your preference vs. your needs from a built in backyard barbecue, should be your first and most important considerations: Will this be a permanent fixture? How much space do you have available? Are you after a simple charcoal burning or a proper inlaid gas grill? These questions will help us determine the right size, shape and location for your ideal barbecue.

Fountains
A fountain can add elegance to your backyard escape while blocking background noise and giving a sense of tranquility. Fountains come in all shapes and sizes from garden fountains, wall fountains and fiberglass fountains. Let us help you in choosing the best fit for your ideal backyard.

Custom Pools and Jacuzzi
We can create endless possibilities for a backyard pool. Small spaces, difficult terrains, and sloped yards are no longer obstacles in custom pool building. We can create waterfalls, classic fountains, waterslides or natural rockscapes. Imagine the possibilities and we will design your custom pool!

Pool Coping
Coping is the term used to identify the material used to cap the pool shell wall. The different types of materials used for pool coping include poured and precast concrete, natural stone, pavers, and tile.

Wooden Arbor, Gazebo, and Patio Cover Structures
Wooden arbors and gazebos provide shade and compliment decks and hardscapes. Add a touch of class to your garden décor with a patio cover or wooden arbor. They provide privacy and shade, especially during the hot summer months. We can customize the ideal structure that will best fit your landscape design.

Wrought Iron Work and Fencing
Create the perfect accent to your landscape design with custom wrought iron work. Modern Image Landscape can take your ideas and convert them into an elegant decorative but functional piece. Whether you are looking to create an enclosure for pets or simply to add security, custom wrought iron gates, fences or accent pieces will enhance living space.

Desertscapes
This type of landscape installation involves installation of plant material that resembles a scenic view of a desert. Typically this type of landscape is very drought resistant and is water efficient.

Sod
Laying sod correctly starts with soil preparation. Properly laid sod can be enjoyed for years to come. At Modern Image Landscape we plan, prepare and properly lay your sod.

Outdoor Fireplace (chimney)
By adding an outdoor fireplace (chimney) to your yard or patio in San Diego you can add to the enjoyment you receive while spending time outside. Outdoor fireplaces make it possible for you to spend your evenings outside during the summer by adding the warm glow of a fire. Outdoor fireplaces also extend your outdoor season by allowing you to enjoy your yard and patio long into the fall and winter months. At Modern Image Landscape we will recommend the ideal outdoor fireplace for your backyard.

Retaining Walls and Freestanding Block Walls
Modern Image is experienced in walls of all shapes, colors, and finishes. We can design and install block walls, Keystone walls, Allen block walls, segmental walls and more. We can finish walls with stucco, flagstone, stone, stone veneer and tile.
Modern Image can install retaining walls or freestanding walls using mortar-less block or traditional mortared walls.
Modern Image also installs planter boxes using a variety of materials including: wood, stone, boulders, and pre-cast concrete products.

Trees and Plants
Modern Image Landscape Construction works with local nurseries to find the best possible plant material available for your job. Our team can also help with selecting plants to fit your design. Additionally, we specialize in installation of all types of plant material including but not limited to drought tolerant plants and tropical or exotic plantscapes.
We also can assist you with your tree trimming needs.

Ponds
If you are looking for creative ways to enhance your landscape, a pond may be just what you are looking for. From fish (Koi) ponds to swimming ponds, we can change the entire appearance of your backyard. We will help ease the maintenance of your pond by providing your pond maintenance or useful tips on how to maintain it.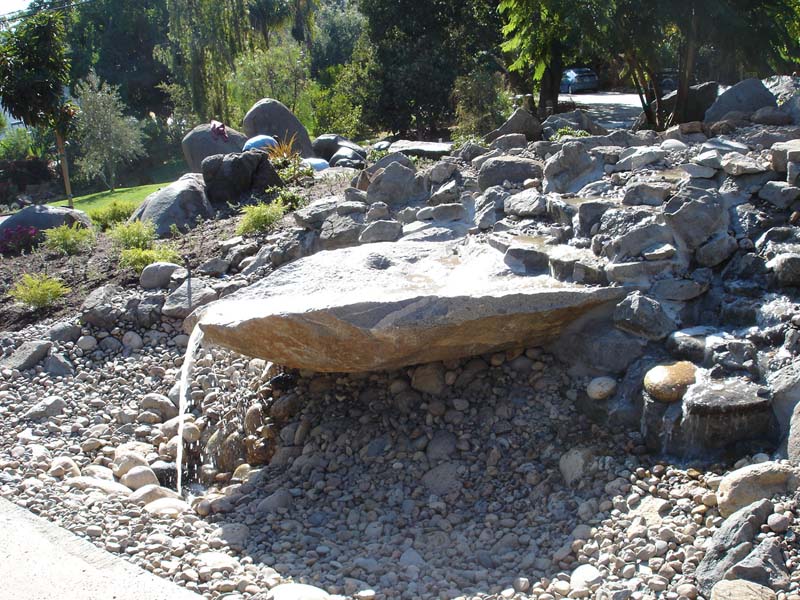 Wooden Decks
Deck building consists of installation of wooden material over a foundation. Types of materials used for deck building vary from different types of hardwood (i.e. 'IPE'), types of composite (i.e. TREX), or wood (i.e. redwood).
Installation of decking requires careful installation of steady surface so deck will not sink or fall over the course of time. Once foundation is laid it must be supported proper substructure. Once substructure is built then the deck is built on the beams.

Synthetic lawn
Synthetic lawn can be a great alternative to natural grass if you have a dog. Because it provides a year-round healthy looking lawn, it may be a good initial investment. Consider the savings in not having to water your lawn all year long and its good for the environment!

Artificial Rock / Rock Slides
Artificial rock or "fake rock" can be used in a variety of ways to create decorative accent for your pool or yard.

Cabinets
Modern Image Landscape offers quality installation of custom cabinetry for all your residential needs including closet woodwork, entertainment centers, and bookshelves. We can also re-stain your current kitchen cabinets or replace existing cabinets for a new look. Modern Image Landscape uses quality materials and provides excellent craftsmanship.

Wooden Fencing
Modern Image Landscape Construction installs a variety of types and styles of wooden fencing to suit your backyard needs. Including custom wood fencing, spaced picket fencing, lattice top fencing, stockade fencing, and post or rail fencing.

Bike and Surfboard Racks
Modern Image Landscape Construction can install outdoor bicycle rack in a variety of styles or finishes. Modern Image Landscape Construction can also install outdoor surfboard rack to store your surfboards.

Putting Greens
We can customize your ideal putting green, large or small, to fit your backyard. With our highest grade synthetic turf, we can create a low maintenance, easy to move and install putting green.

Vegetable boxes
We can build custom vegetable boxes to grow herbs and vegetables in your own backyard.

Landscape Lighting
Low voltage lighting adds a dramatic look to your landscape in San Diego, allowing you to enjoy the beautiful design at night or while entertaining. Landscape lighting beautifies and enhances your property while providing added safety and security to you and your guests. We work with the highest quality lighting to provide you with trusted lighting features.

House Siding
Siding can be placed over existing home surfaces to decorate the exterior of the home and provide curbside appeal. This material is used due to its strength, beauty and durability. Siding also enhances and protects homes in all kinds of climates. Siding comes in a variety of looks and textures, all of which are engineered for climate.

Concrete Countertops
We can build a custom concrete countertop in variety of colors and different finishes.

Outdoor Shower
Modern Image Landscape Construction is able to install an outdoor shower. Shower can be either semi-private or completely enclosed.

Irrigation System
Watering your lawn with a hose or oscillator can waste unnecessary water. Using an automatic irrigation system can save you time and can even conserve water. Automatic irrigation systems can be programmed to a precise time of the day that is best for preserving a healthy lawn.
Drainage System
Modern Image Landscape can install a subsurface drainage system to drain all hardscape and landscape surfaces away from walls and buildings and into area drains.
Pool restoration
We can remodel your old pool and make it look new again with many different solutions.
Firescaping
Modern Image Landscape Construction specializes on strategic landscaping for your yard using fire resistant plants to reduce the threat from wildfire.